WITH a surname like Radakovic, it may not shock you to learn that I am not a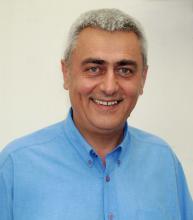 born- and bred Brit!  So I am originally from a small town Gospic, Croatia, graduated in Zagreb 1989, obtained RCVS membership and Certificate in VPH (MH)  by examination and spent most ( but not all )  of my  career in Veterinary Public Health.
 The time is precious to read 'long boring stories', so a few highlights
Inspired to be a vet by spending a lot of my childhood at the grandfather's and uncle farm. It sounds 'romantic' and 'heavenly' when weather is nice, but the reality can be quite different and to be honest I was a bit clumsy – so was determined to do well in school and get away.
Realised at an early age that I love animals and I like people – so decided to become a vet to help both. This philosophy has never left me.
Experienced Practical veterinary life, Official Veterinarian life, Veterinary policy life, International inspections/negotiations life, Presidential life ( VPHA) ….. and now in my mature age AGAIN
Inspired, by students who, contrary to some opinions, show an interest in Veterinary Public Health subject – so I cherish every opportunity to teach and share my knowledge and skills on this important subject

In summary

the story so far….. both my life and career have  been diverse, exciting, interesting, enjoyable…. hoping to carry on in that spirit and mood
The longer 'boring' story…. 
 My inspiration goes back to my childhood working on my grandfather's 'small' 60 acres farm with all food producing and companion animals. I had also an opportunity to see all aspects of slaughtering and meat processing in a local, medium-sized multispecies abattoir that my father managed. One would say nowadays that I had a complete farm-to-fork upbringing.  Moved on to study and like any other student in the world I enjoyed life to the full: singing, playing the guitar and having a good time. Since I grew up around an abattoir and had the dubious pleasure of cleaning pig guts, I was determined not to be involved in that kind of veterinary job once I graduated. I began my career working in small animal practice in Zagreb, along with some large animal and abattoir work.
I like animals and I love people

 
However, life brought me to the UK with a 'blunt' English language skill  (I still struggle with the articles 'a' and 'the'), and with the 'sharp' meat inspection skill which were useful to get a job as a meat inspector. On reflection, my experience with the RCVS statutory exams was invaluable (read challenging or really difficult) not only from the language point of view. It was to understand British agriculture, animal husbandry, the pet- owning culture and so on. Perhaps the most challenging was to grasp the 'British' way of communicating e.g. the ability to agree and disagree with someone at the same time. I also embraced an opportunity to spend six months with Bristol undergraduates.
My UK VPH career was working for the UK Government, initially on the front line then moving on to the Food Standards Agency in 2002 as a veterinary policy adviser. So getting to the point; I have inspected and audited many farms and food- producing establishments in the UK and overseas (EU and South America). During these official encounters I have met many nice, hardworking people (vets and non- vets). But let's be honest: not all people are nice.  Some of them proved to be convicted criminals as I learnt it by being an expert witness in several high profile cases where I was helping the courts to understand the concept of 'risks' arising from unfit meat.  Since then I have had a completely different view of risk, in that there is no such thing as a risk-free activity and absolutely safe food.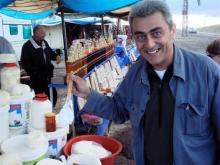 My policy role was probably the most exciting and interesting as a non- clinical veterinarian that one could have. No two days were the same. I travelled extensively, negotiated legislation its implementation and disputes over interpretation (flexibility being a positive not negative word) , being involved in trade deals with non EU countries, hosted high veterinary delegations from all over the world, been a part of emerging risk group a and many others . . . too many activities to list.  I had also been privileged and honoured to serve (2014-2016) as the president of the UK Veterinary Public Health Association (VPHA) – a vibrant, dynamic association – with a wide membership of people from the UK and abroad.
Although I am well aware that this career may not be the first choice for many UK undergraduates I embrace wholeheartedly my teaching role here in Cambridge and contrary to many opinions I see the significant proportion of students are interested in this subject. This is perhaps because I 'read in between the lines' something in  students what I saw in myself many years ago when I decided to be a vet for unusual reasons: I like animals and I love people.  I thought that being a vet would give me plenty of opportunities and a lot of pleasure helping both people and animals. This philosophy has never left me. Even more than that it has given me an opportunity to travel, meet many different people and cultures and make my  'small' contribution to One Health.