How you can help ...
BOAS assessment
The testing venue is the Queen's Veterinary School Hospital. 
You can participate in the research by having your dog BOAS assessed at the QVSH. The assessment takes about 1-1.5 hours for each dog, including (1) veterinary examination; (2) DNA sample collection by cheek swabs; (3) tape measurements of neck and chest; (4) photography; (5) audio recordings; (6) Respiratory function test in the plethysmography chamber; (7) 3-minutes exercise test for BOAS functional grading. 
At the end of the test, the veterinary assessor will be able to suggest further treatment if needed. We will also sent a test report to your vet. The routine testing slots are on Mondays and Wednesdays and can be looked via our hospital reception
The cost of the BOAS assessment is £120.  *This non refundable fee is paid when booking a BOAS assessment appointment.
---
Participate in the different brachycephalic breed study
The testing venue is the Queen's Veterinary School Hospital. 
Breeds included in this study: Affenpinscher, Boston Terrier, Boxer, Cavalier King Charles Spaniel, Chihuahua, Dogue de Bordeaux, Griffon Bruxellois, Japanese Chin, King Charles Spaniel, Maltese Terrier, Pekingese, Pomeranian & Shih Tzu
To be eligible, dogs must be 12 months and over. The assessment is free of charge and includes a clinical examination, respiratory functional grading, conformational measurements and DNA swabs. 
To take part in this study, please fill out this short form through this link here and we will get back to you. Alternatively, please email brachystudy@vet.cam.ac.uk directly.
---
Refer us a surgical case 
At the Queen's Veterinary School Hospital (QVSH), we offer a referral service that includes upper airway tract corrective surgeries such as modified folded flap palatoplasty, laryngoplasty, rhinoplasty, and more advanced surgeries such as laryngeal lateralization (tie-back), and laser-assisted turbinectomy (LATE). We routinely perform plethysmography respiratory function test, CT scans, and rhinoscopy prior to surgeries, and recheck the dog with plethysmography in 8 weeks after surgery. Please visit BOAS Referral Information
Please contact our hospital reception directly to refer a case to us. For further query please contact the soft tissue surgery team. 
---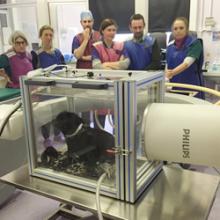 Research collaborations
We are currently setting up multicentral collaboration online platform in collaboration with the Animal Health Trust, more information to be followed. 
- Respiratory function test using whole-body barometric plethysmography (WBBP) 
- Evaluate the effectiveness of different surgical techniques for BOAS
- Sleep disordered breathing in brachycephalic dogs
- Genetic study 
Please contact us via vetboas@vet.cam.ac.uk for further information.
---
Financial support
 Information to be followed.