We know that cost is a major consideration when deciding to embark on a veterinary course. However, studying at Cambridge is surprisingly inexpensive – and we have a policy of never losing students due to financial reasons.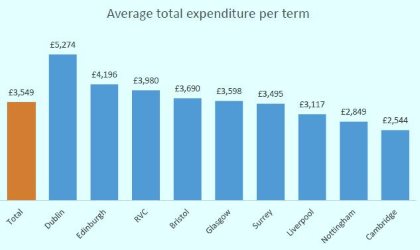 Many prospective applicants assume that studying at Cambridge will be expensive – yet nothing could be further from the truth. In fact, costs are surprisingly low because the University subsidises the teaching of each veterinary student by contributing many thousand pounds per year. In addition, Cambridge is a very well funded university, so does not need to subsidise its non-teaching activities from its student income.
 "Cambridge is the only vet school where all students get financial support for each day of clinical EMS that they do. There is also extra money for travel costs."  -  Lydia
Costs are relatively low
Most students' main expenditure is rent, and for three, four, five or six years, Cambridge vet students' 'landlord' is their college. Perusal of college websites will show how competitive our annual rents are compared to other universities. Rents often include utilities, internet access, and access to college dining halls. Thus rent is probably the main reason why life as a vet student at Cambridge is affordable.
Many other costs are low here too. Eating in college is relatively cheap, and many students mix 'dining in hall' with some self-catering. Every college has its own student bar, too, where costs are once again surprisingly reasonable. College libraries are tasked with holding books relating to undergraduate and clinical degrees so this means a further large saving.
Due to the proximity of the Vet School to the city, once you have a bicycle, travel costs are zero. You should always factor in travel costs when choosing your vet school.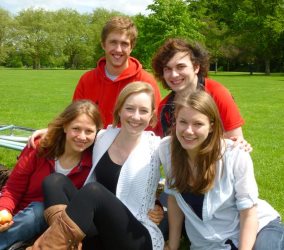 All vet courses have 'up-front' fees for items needed to start the course, and once again at Cambridge these are much lower than at some other vet schools.
Finally sport, gym, music and recreation facilities are usually free, or run on a cost-price basis. Bit-by-bit all these advantages add up to explain why national surveys demonstrate that many Cambridge vet graduates have spent a similar amount, or even less, in six years than some other vet students have spent in five.
For international students, see the 'Students from outside the UK ' menu tab.
"Don't worry about six years at university. You get an extra degree and your friends doing a shorter course will lament choosing paying taxes and mortgages over learning a great subject and having fun."  -  Kaz
What's my fee status?
For students starting their course in October 2021 or later, in general if your are a UK national with an unfettered right to live in the UK and will have been resident in the UK for the three years immediately preceding the start of your course, then you will probably be assigned 'home' fee status.
Most other students are likely to be assigned 'overseas' fee status, but please note that the situation can be more complex for some applicants - including Irish nationals, those with 'settled' or 'pre-settled status', and a variety of other exceptions. For more details click the 'higher education' tab on this page.
There are many sources of financial support
There is a wide array of financial support available. It is extremely important that no one is prevented from studying Veterinary Medicine at Cambridge because of financial concerns, and we are committed to ensuring that this does not happen.
The University runs its own generous Cambridge Bursary Scheme (up to £3500 per year) to support students from low-income households - including graduate and mature applicants. There are also many sources of University funding to prevent financial hardship, and also to support student study, travel and recreation. For details, see this link. 
Colleges also have many sources of funds. Some give additional household-income related bursaries, but all have funds to prevent financial hardship, and they also provide generous funding for student travel, sport and other activities. University alumni often give colleges donations specifically to support these things.
For vet students this funding is especially important as it can contribute towards the costs involved in undertaking Extramural Studies.
In addition, ours is the only UK  vet school to provide a limited daily allowance for the time when students are undertaking Clinical Extramural Studies placements during the vacations, and also some funding towards the cost of travelling to your placements.
Finally, the relatively long vacations at Cambridge – especially towards the start of the course – mean that our students have ample time to both complete their Extramural Studies, and augment their finances by undertaking paid work in the vacations, if they wish.
Because of these additional funds, and the fact that college accommodation is relatively inexpensive, Cambridge can be a very cost-effective place to train to be a vet. If you are concerned about the cost of studying to be a vet, you should contact individual college admissions offices for advice.
"What makes Cambridge special is the fact you have a whole community and family in your College."  -  Callum