When choosing a veterinary course, it is important to think about what sort of work you might want to do in the future. The Cambridge course gives our students an unparalleled scientific and clinical springboard on which to build their future careers. Here are some examples of the diverse directions taken by recent Cambridge graduates.
Josh
I started work about a month after I graduated from Cambridge at a small animal practice in Birmingham. I came to the job as only the second veterinary surgeon and had a lot of responsibility put on me from the start. Fortunately, due to only having two other people in my final-year rotation group at Cambridge, I was already used to taking on responsibility, and had lots of practical experience as well.
During my first year in the job, I have already seen various new drugs, procedures and surgeries that have only just become available. However, once again, the style of the Cambridge course has helped me a lot. Because Cambridge teaches you first principles – the science behind the diseases and drugs, rather than rote lists of information – you understand the basis behind innovations in the veterinary world and can easily keep up with any new ideas.
The veterinary course at Cambridge is not only brilliant, it allows for incredible opportunities for different sports, having a good social life and having one of the best university experiences in the world.
Marie
My favourite part of Cambridge was the college system, where I received high quality small group teaching, enjoyed a great social environment, and had endless extra curricular opportunities. This collegiate feeling extended to the vet school, where the teaching and clinical staff knew everyone as individuals, and cared about our development and learning throughout the course.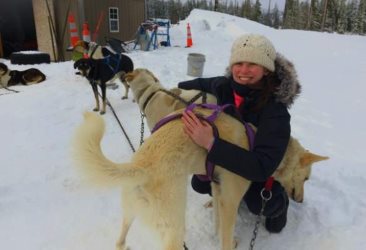 The course itself allowed me to develop clinical veterinary skills while exploring my interest in a research career. To gain research experience I completed a summer programme at a veterinary laboratory in the United States and spent my clinical elective project searching for a genetic cause of early onset diabetes in labradors.
My research interest stuck with me and after a year in small animal practice I left to pursue a Masters of Public Health at Harvard. Now I work for the US Centers for Disease Control and Prevention as an Epidemic Intelligence Service Officer.  This position involves on-the-ground epidemiological investigation of infectious disease outbreaks, both within the USA and internationally.
My range of experiences at Cambridge, along with continued support from staff since graduation, has allowed me to have an exciting and unconventional veterinary career path!

Sam
I've always had a strong equine leaning and now work as part of a seven-strong equine team at a large mixed practice in Oxfordshire. We have full in-patient and surgical facilities and I really enjoy the enormous variety of the work. I have a particular interest in sports horse medicine and reproductive work, and happily that is what I now spend the majority of my time doing!
 I thoroughly enjoyed my 6 years at Cambridge, thanks to the friendly college environment and the amazing sporting, social and academic opportunities. College is also integral to the brilliant small group teaching ('supervisions') in the first few years.  The small year size really pays off in the final (lecture free) year as the ratio of expert clinicians to students is fantastic.
The biggest thing Cambridge taught me is not so much the details of anatomy, disease and medicine (although obviously all are integral to my day-to-day work) but the ability to think. To be presented with an unfamiliar and unknown problem or disease and to reason, calmly, from first principles, a solution – that has made me what I am and that is what Cambridge gives its vets.
Ellie
I am currently the senior resident in zoological medicine and pathology at the Toronto Zoo and Ontario Veterinary College in Canada, working towards American and European specialist ('diplomate') status in zoo and wildlife medicine – a path I decided to follow during my first year as a vet student.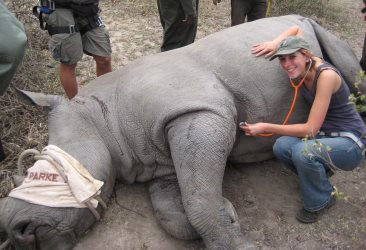 Cambridge were supportive of my goals from day one, and during vet school I received financial and academic support to pursue my clinical year elective project on rhinoceros anaesthesia, as well as numerous other wildlife and livestock related EMS in Madagascar, South Africa, Namibia, and Egypt. I studied Zoology in my third year, and wrote my thesis on mycobacteriosis in wild meerkats in the Kalahari.
Since graduating from vet school in 2010 my career has continued to take me all over the world: I worked in mixed practice in the UK, dairy cattle practice in New Zealand, at a chimpanzee sanctuary in Zambia, and on two US Navy civil-military humanitarian missions in Latin America and southeast Asia.
I passed the AVMA (American Veterinary Medical Association) and NAVLE (North American Veterinary Licensing Examination) exams on my first attempt, thanks to the strong focus on scientific rigour and evidence-based medicine taught to us at Cambridge.
Cambridge's unique curriculum and the university's international reputation made me the vet I am today, and I can't recommend the course highly enough! No matter how you envision your future in veterinary medicine, Cambridge is a great place to start.
Brendan
I chose Cambridge Vet School because of the prestige of the University, and I chose Emmanuel College because it has a duck pond and a large number of veterinary academic staff. Those decisions were both arbitrary but moved me a step further along the career choice I had made at the age of eight as a protest when my parents wouldn't let me have a pet dog.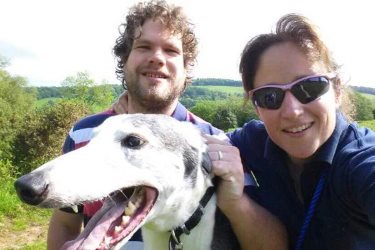 As it turned out, the University and the College were perfect for me – I was close enough to make timely attendance at 9am lectures more attainable, and the sport and social life were second to none. How often I now am reminded of those hazy anatomy practicals or Comparative Vertebrate Biology lectures by a nostalgic memory of the first time I learned about the Extensor Carpi Radialis muscle or the fantastically named Zonules of Zinn.
The good times continued throughout the pre-clinical and clinical years, and I finally left the vet school with membership of the Royal College, loads of life-long friends and a rescued greyhound called Frosty.
Since graduating I have worked in farm animal practice and am now a partner at Evolution Farm Vets, a five-vet farm and equine practice in Somerset, so I get to live in the beautiful Quantock Hills. I am married to Heidi Paddy who I met at Cambridge Vet School and we still have Frosty, who is now twelve years old, as well as a whippet lurcher, Bluebell. I am always keen to meet vets and vet students with an interest in farm animal vetting - so do get in touch with us at Evolution!
Matt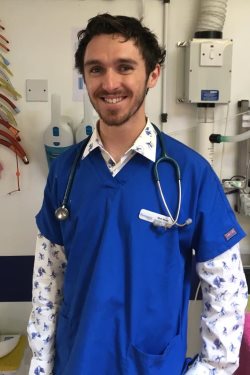 Having made the leap into the world of small animal practice several months ago, I can now see how well Cambridge prepared me for this frequently feared stage in one's career.
Two aspects of practice which can be most challenging at first are surgery and consultations. In my final 'rotations' year at the Vet School – a 100% practical year – I spent many hours scrubbed into major surgeries, and performed spays, castrates, and other surgeries. I also did a large amount of surgery on EMS (seeing practice), so I felt I had a head start going into practice. New graduates need good support, but my Cambridge training kept the stress levels down.
And consults… ten minutes is not long to diagnose, discuss, and treat a case! Thankfully I also felt well prepared for this – Cambridge vet students spend a lot of time consulting with owners, discussing complicated medical and surgical cases, before reporting back and working together to come up with a plan of action. This way of learning involves taking a lot of responsibility, reinforcing the medical knowledge learned in the earlier years, and also improves communication skills.
One of the classes I remember most vividly from earlier in vet school involved role playing consultations with an actor, who would pretend to be angry, upset, sad, or anything else! Learning how to deal with these situations in a safe environment was an ideal way of preparing for when it happens in real life.
Furthermore, I actually got a job which was advertised for an experienced vet – perhaps testament to the education at Cambridge!
Stephanie
Starting out as a budding new vet student at Cambridge, I never would have guessed that thee years after graduation I would be living my dream as a veterinary resident at ZSL London Zoo.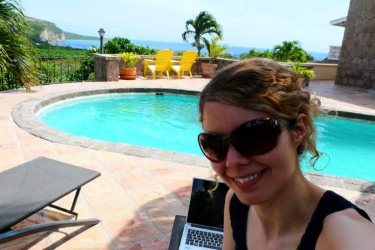 While I write this I am sitting among lizards and hummingbirds on a vivid green mountainside on the Caribbean island of Montserrat about to embark on a forest hike. Though most of my time is spent looking after the myriad of fascinating species at London Zoo, for the next couple of weeks I have my fieldwork hat on, working on a collaborative project to find the last remaining critically endangered mountain chicken frogs in Montserrat and collect samples of their wild diet so we can better understand how to care for them in captive breeding programmes.
I realise now that studying veterinary medicine at Cambridge formed the platform to my career. Studying comparative anatomy and physiology in the first year of the veterinary degree enabled me to gain an understanding of the diverse forms and functions present in the animal kingdom, knowledge which I use every day in my job as a zoo vet.
The supervision system in small groups encouraged us to enquire openly about our study subjects without feeling under pressure. Having the opportunity to take an additional degree in Zoology in the third year expanded my understanding of conservation and herpetology which now form my main areas of interest both in and outside of work.
Cambridge also provided great networking opportunities – I met several of my future employers by joining and later chairing the Cambridge University Veterinary Zoological Society! Cambridge is where it all started and will always feel like a second home.