Call for Cases
A recent retrospective human study on diffuse large B-cell lymphoma (DLBCL) documented that high absolute CD4+ cell counts in the blood correlated with better progression-free survival and, to a lesser extent, overall survival. Relatively little, however, is known about the correlation between peripheral blood immune cell numbers and prognosis in DLBCL in dogs. Investigating the prognostic potential of haematologic parameters that can be measured routinely in lymphoma patients is an attractive idea as these values are easily and inexpensively assessed.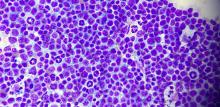 The aim of the proposed study is to evaluate T-cell profiles in the peripheral blood of dogs with diffuse large B-cell lymphoma (prior to treatment):
1. To compare this with a control population of healthy older dogs and
2. To determine whether any changes, particularly in CD4+ regulatory T-cells, may correlate with tumor response / survival & hence have utility as a prognostic marker for the disease.
***What do we need? ***
We need your cases of suspected canine multicentric B-cell lymphoma! We are looking for cases of untreated dogs with generalized lymphadenopathy or with a cytological diagnosis of lymphoma or confirmed B-cell immunophenotype (on flow cytometry or immunohistochemistry). If you wish to refer such cases to the Queen Veterinary School Hospital (QVSH) we can offer a reduced price for the first consultation.
Alternatively, if you would like to manage these cases yourself at your practice, we would accept blood from EDTA samples of untreated dogs with generalized lymphadenopathy for the flow cytometry analysis and we would be happy to offer flow cytometry analysis of the lymph node sample at no costs if the case is suitable to be enrolled in the study. For the cases enrolled we will need a minimum follow up (clinical examination questionnaire to download - see link on left hand side) at the 8 weeks, at the end of the protocol and when the dog relapse or dies (from his lymphoma or other causes).
***Sample requirements***
Please, send at least 2.5 mls of excess EDTA blood.
Normal cytology smears (at least 2, ideally unstained) of one of the lymph node should also be submitted.
Multiple aspirates should be taken from the affected lymph node (between 4 to 7 aspirates if possible) and these should be squirted directly into separated serum taken from the patient prior to aspiration (at least 0.5mls, ideally placed into an EDTA tube). As a guide, sufficient aspirates should be taken to achieve a cloudy appearance to the serum. Alternatively, a special fixative solution (RPMI) can be used (please call 01223 337625 to request an RPMI tube). Samples should be submitted to the laboratory within 24 hours and next day delivery (stipulating delivery between 9am and 1pm) is recommended.
Please, contact am2607@cam.ac.uk for any queries.